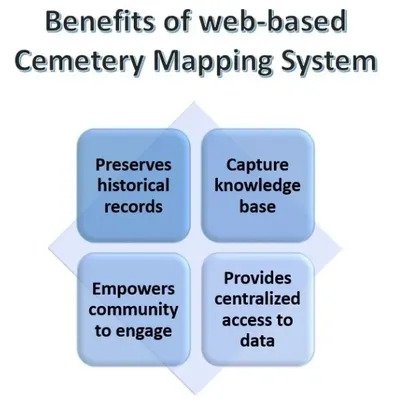 Benefits of cemetery mapping
Locating unmarked burials and having updated burial plot maps are becoming more important with the cost of real estate getting higher. In addition, an aging population is creating higher demand for burial sites, and many cemetery operators with limited space are faced with a growing challenge. Unless there is detailed documentation in the form of a burial plot, map further development of the property could be limited.
Historical cemeteries rarely have an accurate burial plot map.   Our expertise in ground penetrating radar (GPR) enables us to identify the location of unmarked burials even though buried remains and caskets may have decomposed over long periods of time.   Marking the location and collecting GPS points of unmarked burials allows us to provide accurate cemetery mapping.
Our GPS cemetery mapping services provides you with a permanent record with convenient cloud-based access to your cemetery map, along with electronic data files for your archives.
Our comprehensive cemetery mapping services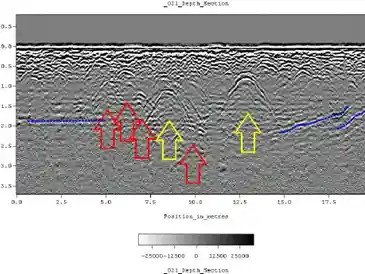 Ground-penetrating radar (GPR) is a geophysical method that uses radar pulses to image the subsurface. It is a non-intrusive method of surveying the sub-surface to investigate underground anomalies.  This nondestructive method uses electromagnetic radiation in the microwave band (UHF/VHF frequencies) of the radio spectrum, and detects the reflected signals from subsurface structures.
Ground Penetrating Radar is perfect for finding unmarked graves, mass burial sites, covered burial stones, and underground utilities.
Using a GSSI Utility Scan, GPR scanning is conducted in relevant areas of the cemetery, including inside coping, to verify marked burials, discover unmarked burials, and locate relevant subsurface features.  The GPR scan will include open areas within the boundaries of the site and will be managed, from start to completion, by a Certified GPR Site Supervisor
GPS stands for global positioning system, and it uses signals from satellites to pinpoint a location on the Earth's surface.   When used by skilled professionals and combined with results of GPR cemetery mapping, GPS provides surveying and mapping data of the highest accuracy.   
On-site GPS collection of cemetery data makes possible the generation of a true-to-life, as-built burial plot map.
We use a high-accuracy GNSS receiver coupled with Trimble collection software and Esri's ArcGIS applications to record precise coordinates of relevant cemetery elements.  We collect GPS points for physical features in the cemetery including headstones, unmarked burials discovered with GPR scanning, coping areas, fences, monuments, and structures, and we capture images of headstones and other pertinent features in the cemetery.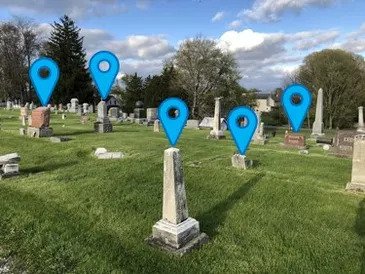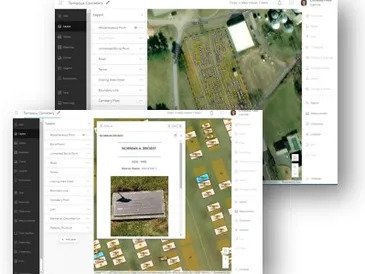 Web-based Burial Plot Maps
A geographic information system (GIS) is a cemetery mapping framework for gathering, managing, and analyzing data that is referenced to locations on the earth.  The data set includes tabular attribute data that provides additional details about individual spatial features.  
Our cemetery mapping process combines GPS data, attribute information, and images to create a dynamic burial plot map. 
Using GPS and photographic data collected on site, we create an interactive WebMap on the Esri ArcGIS platform.  The final WebMap is searchable by name of deceased, includes locations of marked/unmarked burials and cemetery landmarks, as well as images of individual headstones.  We can also help optimize your cemetery space by evaluating open areas and identifying potential available burial spaces.
Typical cemetery mapping process
Creating a burial plot map in 3 simple steps:
Most of our cemetery mapping projects follow these three simple steps:  
CONTACT US TODAY FOR A FREE PRICE PROPOSAL