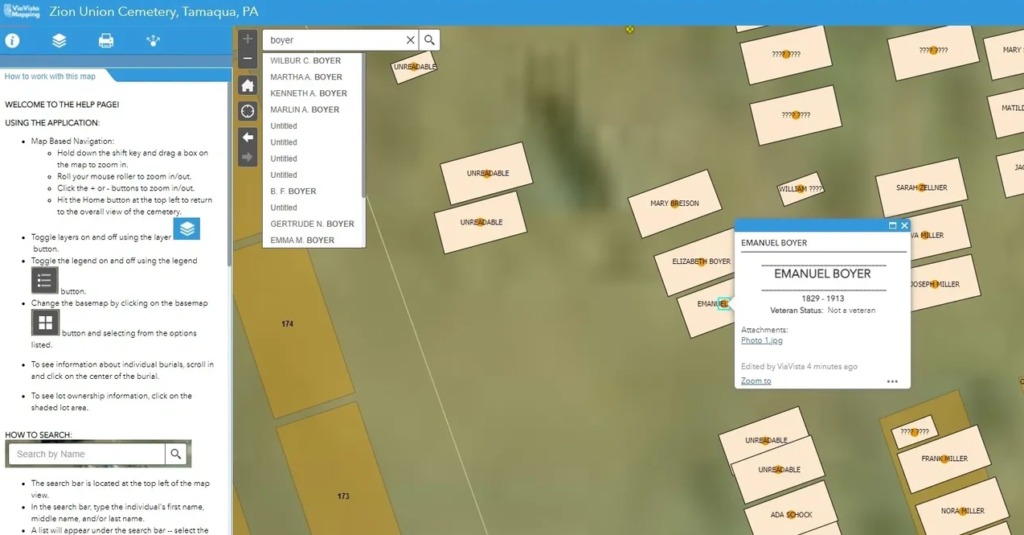 ArcGIS cemetery mapping: We are excited about transforming our business to better serve our clients by providing cemetery maps via a cloud-based geographic information system (GIS) on the ArcGIS platform.  Cemetery mapping has long been an important element of cemetery preservation. 
Reasons for mapping cemeteries include: • Cultural resource conservation • Maintenance of markers and monuments • Facilities and grounds management • Records management • Interment planning • Locating existing interments.
Frequently, because of the historic nature of cemeteries, knowledge of burials and marker conservation is documented in aged and inconsistent paper forms and in the experiences of individual caretakers. Taking these historic documents and combining them with ground penetrating radar discovery, GPS surveys, and digital photography into a GIS allows for optimal cemetery management and long-term planning.

An important consideration is ease of accessibility of cemetery information to cemetery staff, visitors, and the general public to find the location of, and information about, existing burials. Paper and pdf documents are not easily shared with cemetery stakeholders and tend to become obsolete quickly.
We build ArcGIS cemetery maps for our clients on the Esri ArcGIS platform, which is the recognized industry standard for geographic information systems. With our customized, and dynamic WebMap applications, clients can access their cemetery data from any device with an internet connection.  In addition, the cemetery map geodatabase can be readily integrated with municipal, county, and state GIS platforms.
Creating and maintaining cemetery maps on a cloud-based platform is a future-proof solution that will provide value and benefits to communities for decades to come.
See examples of our ArcGIS cemetery mapping HERE.
Contact us today to find out more about our ArcGIS cemetery mapping services.
See why ArcGIS is the industry standard for GIS platforms HERE.
Curious about the cost of ArcGIS cemetery mapping? Check out this POST.